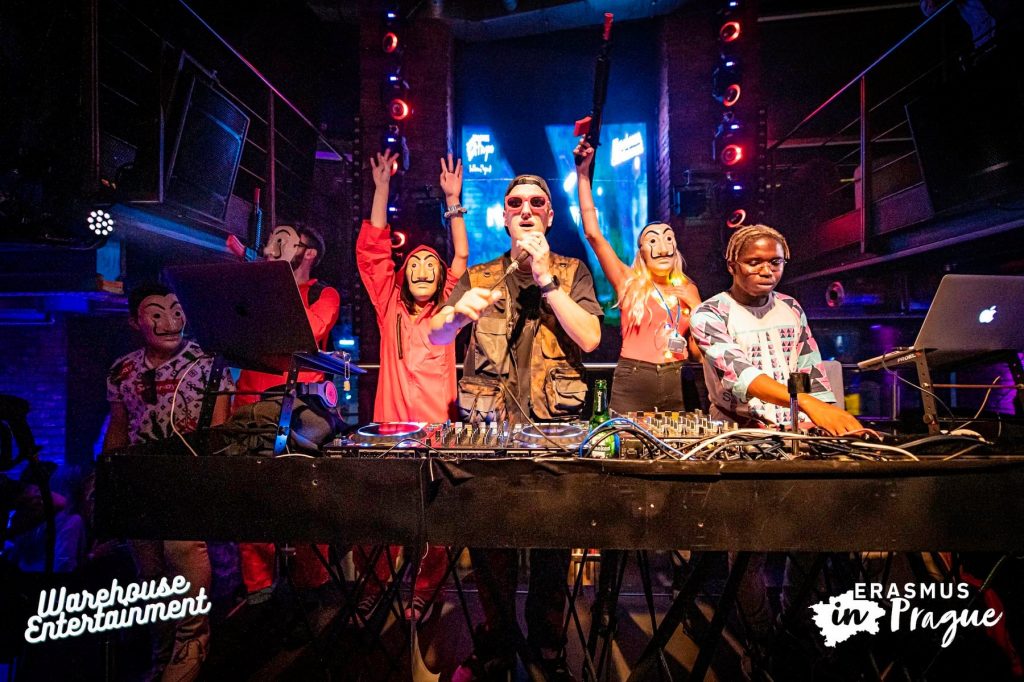 The Greatest Robbery in Duplex History
Duplex is, and always has been, an icon among Prague's clubs. This house of bangers overlooks the central Wenceslas Square with its rooftop and is renowned for its sound. It boasts a long tradition of keeping the floor moving and full, featuring formidable rosters of DJs. What a perfect place for a party! Or better yet, what perfect time for the biggest robbery in the history of Duplex: the Erasmus in Prague La Casa De Papel party taking over the biggest venue.
That's right: Erasmus in Prague now hosts regular themed parties in this absolute beast of a club! Kiss your Bella Ciao and move your body – get on the dance floor, move as one with the bass, behold the lights flash, follow the walkway dancers, and watch out for the Dali facemasks. That's the crash course through this on-the-money hit.
The gunmen in costume pump up the suspense with their masked visage. The tension is then released in grandiose outburst of music – latina and reggaeton vibes mixed with a little spice, but always staying on the La Casa De Papel wave. DJs Forgen and Heny Papi made sure the plan was airtight. For those seeking some air, however, there is always the rooftop bar. Everybody can move at their own pace, which facilitates what it really is all about – getting what you want.
Erasmus in Prague and Warehouse Entertainment do regular follow-ups featuring more popular themes. Smooth getaway, but you can catch us at this party G-spot every Wednesday! Duplex has it all: big sound, dynamic lights, bars, drinks, dance floor, rooftop, dancers on the walkways, but it is you, the students, who are the ones really bringing the party.