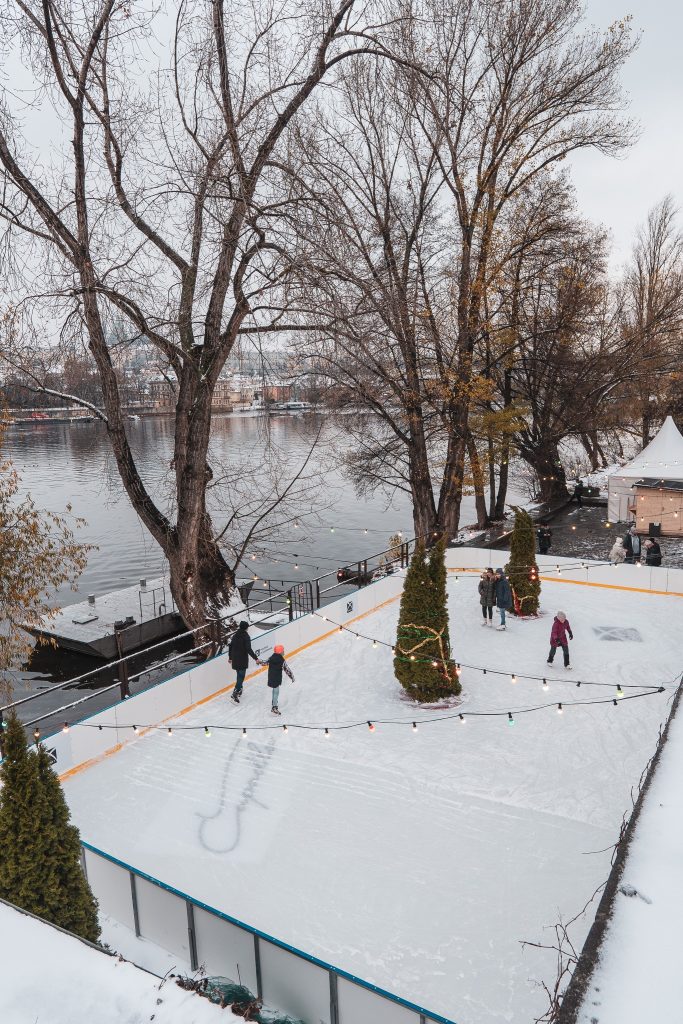 Prague is full of winter entertainment for locals and tourists! Today we will tell you one of the options for a magical and fun pastime with your friends and family. And of course, it's figure skating, where you can not only spend time outside but also enjoy the beautiful views of winter Prague. In this post we have collected for you the best outdoors skating rinks in Prague.
ICE ring at Letna park
Dates: until 28 February 2023
Time: Daily 09:00-21:00
Price: Free entry
Address: Letna plain, Prague 7 – Letna
The ice skating rink (40 x 20m) with a separated kid´s skating area (20 x 10m) at Letna plain is located in front of Sparta Prague football stadium close to Milada Horakova street. The skating rink facilities includes a heated tent, refreshments, ice skates rental and sharpening services.
Web: https://prahasportovni.eu/kluziste-na-letne/
ICE Ring Zizkov TV Tower
Dates: until 13 March 2023
Address: Mahlerovy sady, 130 00 Prague 3
Time: Mon – Sun: 9:00-20:00
Price: 120 CZK adulst, children up to 14 – 100 CZK, kids up to 100 cm (accompanied by adult) free of charge, family 2 + 3 – 350 CZK
The illuminated ice area below Žižkov Television Tower, the tallest structure in Prague. Visitors can warm up with a mulled wine and homemade punch.
ICE Ring Havlickovy sady
Dates: until 28 February 2023
Time: daily from 9:00-18:00
Address: behind the Pavilon, Havlickovy sady, Prague2
Price: 50 CZK, skate rental 80 CZK
The district of Prague 2 opened an outdoor ice skating rink (30 x 16 m) at Grebovka, close to the Gröbe Villa. The illuminated ice rink is open daily.
Web: www.praha2.cz
ICE Ring on Strelecky Island
Dates: until 31 January 2023
Time: Mon – Fri: 2p.m. to 9p.m., Sat and Sun: 12a.m. – 9 p.m.
Price: Free of charge for citizens of Prague 1 and children under 10, others – 50 CZK, skate rental: 100 CZK
Address: Střelecký ostrov, Prague 1
A new ice rink on Střelecký Island where you can enjoy ice skating with the magical view of Vltava river.
Web: facebook.com/strelak.strelecky.ostrov
ICE Ring Na Frantisky
Dates: until 31 March 2023
Time: check the website
Price: 70 CZK / adult, kids aged 1 to 14 – 40 CZK
Address: Area of Na Frantisku, Kozí street, Prague 1
The skating rink is located near the Na Frantisku Hospital in the beautiful area of the Old Town, Prague 1. Outdoor ice rink for public skating in the size of 40 x 20 meters
And a few more options for you that are located in the most touristic and photogenic places.
ICE ring in the Old Town
Dates: until 31 January 2023
Time: 10:00-21:00
Price: Adult: 100 CZK. Skates: 100 CZK.
ICE Ring by the Vltava River
Dates: until 31 January 2023
Time: Mon-Fri 13:00-21:00; Sat-Sun 10:00-21:00
Price: Free entry. 150 CZK skates
Best Outdoors skating rinks in Prague 2023