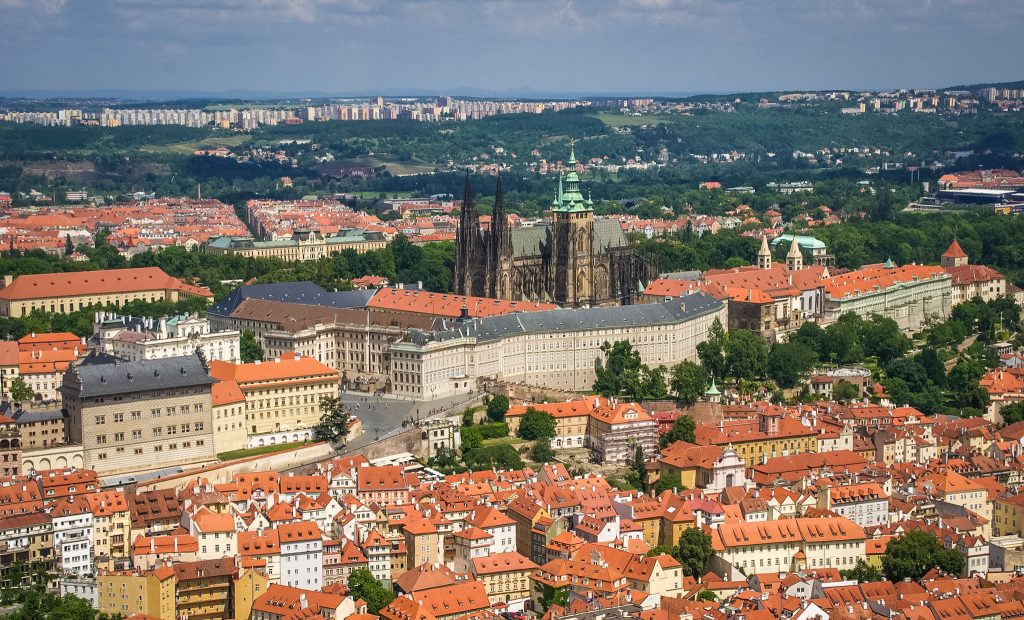 Exploring the City's Spectacular Viewpoints
From ancient castles to modern towers, there are panoramic views showing the iconic sights of the city and picturesque landscapes. Today we will tell you where to go to enjoy the beautiful view of the whole of Prague.
Prague Castle and St. Vitus Cathedral:
Located on Hradčany Hill, Prague Castle and St. Vitus Cathedral provide an iconic viewpoint. Climb the grand staircase and reach the castle's courtyards for a stunning panoramic view. You'll be amazed by the red-roofed buildings, the winding Vltava River, and the spires that decorate the skyline. Don't forget to visit the Great South Tower of St. Vitus Cathedral for a bird's-eye view of the castle complex and the surroundings.
Petřín Hill and Petřín Tower:
Escape the busy streets and visit Petřín Hill, a peaceful place that offers breathtaking views of Prague. Take a walk through the beautiful gardens and go up the hill to reach Petřín Tower. From the top of this 63-meter tall tower, which has a lookout deck, you'll enjoy a 360-degree view of Prague's old town, the river, and the distant hills. The sunset view from here is especially enchanting, as the city glows in warm colors.
Letná Park:
Situated on the west bank of the Vltava River, Letná Park is a popular green space with a fantastic viewpoint. Head to the Hanavský Pavilion, a lovely neoclassical building, and climb up to the terrace. From here, you'll be greeted by a picturesque view of Prague's famous bridges, including the Charles Bridge, as well as the old town and Prague Castle. Letná Park has a relaxed atmosphere, making it perfect for a picnic.
Vyšehrad Fortress:
While Prague Castle gets a lot of attention, Vyšehrad Fortress offers an equally stunning viewpoint. This historic complex sits on a cliff overlooking the Vltava River, offering a peaceful atmosphere and a unique perspective on the city. Enjoy panoramic views that not only include Prague's landmarks but also the lush green parks around. Don't forget to explore Vyšehrad's hidden gems, like the beautiful Basilica of St. Peter and St. Paul, and the enchanting Vyšehrad Cemetery, where many famous Czech figures are buried.
Prague's viewpoints provide a fresh perspective, allowing you to admire the city's architecture, meandering river, and beautiful landscapes.