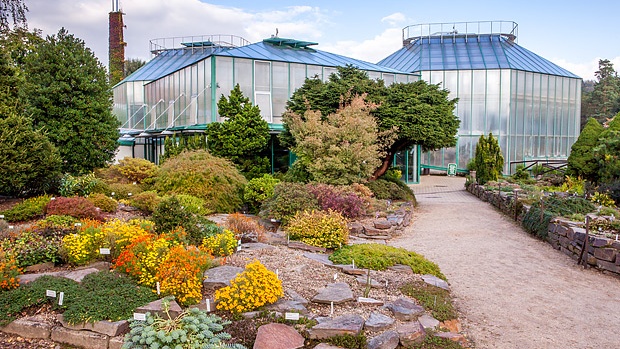 Botanic Garden Prague: A Green Oasis in the Heart of the City
Charles University operates the Botanical Garden in Prague's Troja district, covering an area of 52 hectares and boasting over 20,000 taxa of plants from all over the world. This stunning garden is a must-see for nature enthusiasts, gardeners, and anyone seeking a peaceful and beautiful destination to relax and unwind.
The Botanic Garden features various sections, each displaying a unique type of plant or ecosystem. One of its most notable attractions is the Japanese Garden, which includes a traditional tea house, a pond filled with koi fish, and a Japanese pavilion. Visitors can unwind and appreciate the peacefulness of nature in this serene environment.
Tropical greenhouse
Moreover, the Botanical Garden boasts another well-known destination, the tropical greenhouse. This vast edifice houses numerous types of exotic plants, such as various species of orchids, palms, and bromeliads. The greenhouse is an excellent location to visit.
Outdoor spaces
If you are enthusiastic about exploring the Botanical Garden's outdoor areas, there are numerous plant collections to explore. The Alpine Garden is where you will find plants that flourish in mountainous regions, while the Mediterranean Garden highlights plants that thrive in warmer, drier climates. Furthermore, the Systematic Garden categorizes plants based on their families, making it an ideal location to learn about plant classification.
Exhibition
In addition to its extensive collection of plants, the Botanic Garden Prague hosts a variety of events and exhibitions throughout the year. These include lectures, workshops, and cultural events that celebrate the beauty and diversity of the natural world.
For example, visitors can currently enjoy the exhibition "St. Claire's Vineyard." Here, they can learn how grapes are grown and wine is produced. They can also participate in wine tasting and immerse themselves in the history of Czech wine. The exhibition also includes a local shop where visitors can purchase wine-related products.
Address: Trojská 800/196, 171 00 Praha-Troja
Open hours: Mon-Sun from 9:00 to 19:00
Price: A student ticket will cost 120 CZK or 100 CZK if you buy it on the website.
Website: https://www.botanicka.cz
Whether you're a botany enthusiast, a nature lover, or simply looking for a peaceful escape from the hustle of the city, the Botanic Garden is a great visit destination.